Join the Relay2 PartnerConnect Program
Unlock New Business Opportunities with Relay2
At Relay2, we understand that enterprise connectivity is just the beginning. We are committed to delivering transformative solutions that not only connect data and devices but also drive business growth and innovation.
We invite you to be a part of our integrated partner ecosystem, where you can collaborate and leverage our cutting-edge solutions to unlock new opportunities for your business. Together, we can shape the future of Wi-Fi Services with Edge Computing and empower businesses to thrive. Join us at Relay2 and take your business to new heights.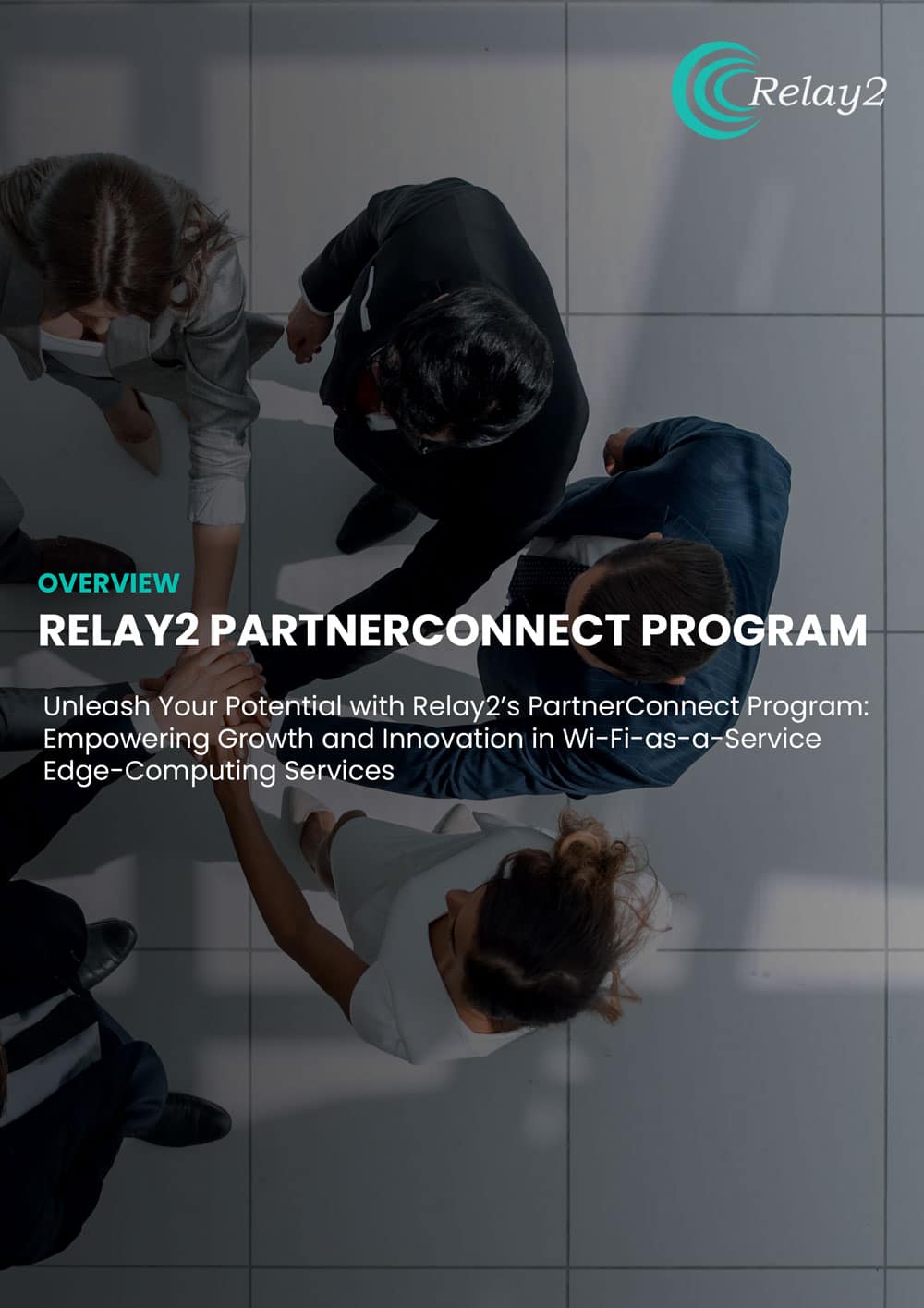 Unleash Your Potential with Relay2's PartnerConnect Program
Relay2's groundbreaking Wi-Fi-as-a-Service Edge Computing integration introduces a compelling value proposition for channel partners. This revolutionary patented ServiceEdge Platform delivers a multitude of benefits, fostering enhanced application performance, security, scalability, cost savings, data privacy and security, and novel revenue-generating opportunities.
Unlock global opportunities by collaborating with Relay2 as a channel partner to deliver our innovative products and solutions to customers worldwide. As a channel partner, you will have access to our comprehensive portfolio of cutting-edge solutions and the resources needed to serve customers in diverse industries effectively. Join us in driving innovation and delivering exceptional value to customers around the globe.
Become a Technology Partner
Join forces with us to revolutionize the wireless experience and cocreate next-generation solutions. By joining our network of partners, you'll have the opportunity to leverage our expertise, cutting-edge solutions, and global reach to deliver innovative and transformative wireless experiences to customers worldwide.
Join the ServiceEdge App Developer Ecosystem
Accelerate the development and deployment of edge applications with ease, leveraging the power of our ServiceEdge platform. By partnering with us, you gain access to a comprehensive platform that enables you to create and deploy edge applications quickly. Our ServiceEdge platform provides the tools and infrastructure you need to harness the potential of Wi-Fi Services with Edge Computing, helping you deliver innovative solutions to your customers faster than ever before.
Explore the Unique Benefits of Joining the Relay2 PartnerConnect Program
Our innovative Wi-Fi Services with Edge Computing solutions offer channel partners a compelling value proposition. With our groundbreaking ServiceEdge Platform, you can unlock enhanced application performance, strengthened security measures, scalable solutions, cost savings, data privacy and security, and exciting revenue opportunities.
At Relay2, we understand the power of collaboration and partnerships in today's rapidly evolving landscape. That's why we are excited to introduce our PartnerConnect Program, specifically designed to foster collaboration, drive business growth, and deliver exceptional value to both you and your customers.
Join us in harnessing the potential of our program, and together, let's achieve remarkable success in this dynamic industry.
Making a Meaningful Impact With Our Partners
Relay2 is committed to empowering partners by providing comprehensive, innovative solutions to ensure mutual success leveraging Wi-Fi Services with Edge Computing and the Relay2 ServiceEdge Platform.
Accelerate Innovation with Wi-Fi Services with Edge Computing
Enter the Relay2 partner ecosystem of technology partners, working together to deliver the next generation of wireless experience. Our team works closely with you to sell integrated products and solutions to customers.